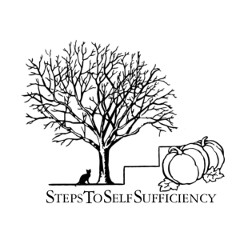 StepsToSelfSufficiency has various meanings. I would simply say: steps towards a simpler, greener and more sustainable life. It is how I see it. The individual topics are listed below and are far from being complete. Life is so complex that more and more topics will be added over time.
The texts in this section are subject to various licenses. These are always provided at the end of the text and regulate the way in which the texts may be used. If nothing is indicated, they are subject to "All rights reserved" and may only be used with my explicit permission. For this purpose please send me an e-mail. Linking is explicitly allowed.
Topics
This section is currently under construction. Oh well … maybe it will be under construction for ever. There are soooo many topics. As soon as the section's caption is linked, you will also find contents.
Garden and gardening: Anyone can do it. There is room for plants even in the smallest apartment. Here we talk about: "What can I grow?" and "How can I grow?".
Books: A list of the books I own. And maybe a wish list.
Cooking and preserving: New and old recipes – it will be exciting.
Foraging and weeds: All you can find in the woods and fields – and also in the garden.
Medicinal plants: Plants that once were used in medicine, well some of them are still being used today.